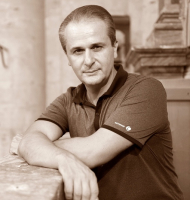 Marco Lo Muscio, born 1971 in Rome, is one the most successful Italian organists of his generation, performing regularly on all major organs all over the Western hemisphere.

As a composer he has a large output of organ and piano works, notably inspired by fantasy literature and J. R. R. Tolkien, but also painters and poetry. His music is in the interstylistic sphere between classical modern and popular music, reflecting both jazz, free tonality, and an unmistakable melodic sensitivity.

He has recorded numerous CD's and is the current artistic director of the international Organ Summer Festival in Rome.
""...a marvellous musician!" 

  .